Introduction
Dear Oxford Day Academy Community,
It has been a few months since our last newsletter.  The 2020 pandemic has brought with it challenges and opportunities.  Through it all; however, the learning continues and our students and staff have a lot to share with you.  Given these events, we have decided to transition to a quarterly newsletter.
Over the past four months ODA students have experienced the online odyssey of math, gone on a MAGICal journey, considered the meaning of social justice in the United States, and written reflective letters to encourage and inspire peers and future students.
While experiencing the social, economic and health impact of this pandemic, our students and staff remain resilient with the understanding that we must learn to adapt to the changes brought on by this virus.  Virtual classes are a new reality to which we are all adjusting.  Although we long for the days when we could hug each other, walk through a hallway packed with students, be in class with friends – without the intrusion of a Zoom screen, we are grateful for all we have learned and accomplished.  We extend our appreciation and thanks to each other and to you, for the support, resources, and good cheer, you have provided during this pandemic.  We wish you all well and that you and your loved ones are safe and healthy.
The Online Odyssey Of Mathematics


Imagine trying to teach someone how to build a house over the telephone, explaining concepts such as the plan of the house, building the foundation, raising the walls and roofing.  This is what it is like to teach math online. – Richard Tinife
The Journey
Our online classes in Math have been going on extremely well. In the beginning, our major concern was how to engage students to do Math online, given its rigorous, abstract and rather axiomatic nature. The teaching and learning process in math is very personal with a lot of technicalities, because concepts can be very confusing. Imagine trying to teach someone how to build a house over the telephone, explaining concepts such as the plan of the house, building the foundation, raising the walls and roofing.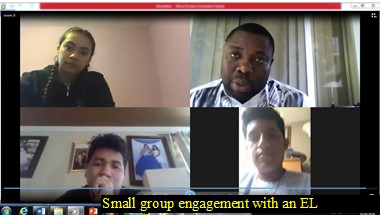 The Challenge
The challenge of teaching math online can be be overwhelming, there must be a medium where these concepts or ideas are presented concretely or physically. This need preoccupies much of the math team's thinking and creative energy. We seek solutions to engage students across virtual and online platforms.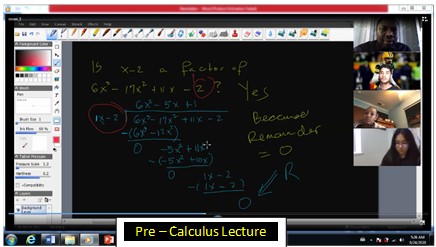 The Solution
At the moment, we have some of the best tools in engaging our students online. Incorporated in our zoom meetings, we use online tools like classroom screen, smooth draw, and Microsoft Onenote. Another extremely useful resource that supports the teaching of geometry is Classflow, because it has built-in rulers, protractors and compasses. Of all the resources; however, DESMOS is one of the best tools for student/teacher interaction. Our students find DESMOS activities exciting. Each of these solutions have made the teaching of math online accessible, collaborative, and enriching.
---
A MAGICal Experience
Five Juniors experienced the MAGIC of computer science, engineering and technology. Through a pilot effort, Oxford Day Academy partnered with More Active Girls in Computing (MAGIC). This nonprofit organization offers 1-1 mentoring to middle and high school girls with the goal of exposing them to fields in Science, Technology, Engineering and Mathematics (STEM). Each student was paired with a woman STEM career professional and mentor. They met weekly to work on STEM projects selected and designed by the student. On May 22, 2020 students presented their projects.
Karen Saucedo Challenges You To Rock Paper Scissors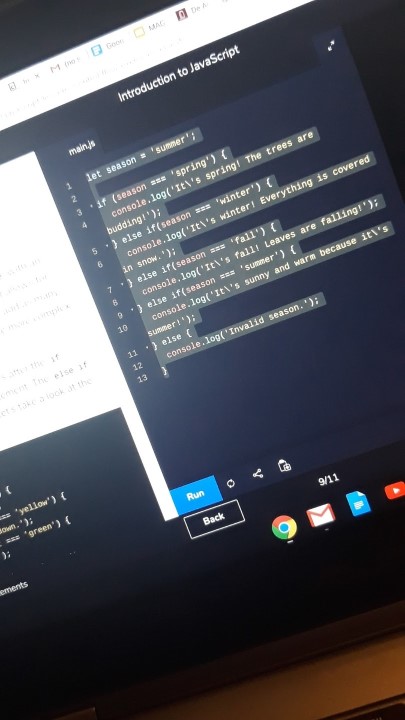 My mentor was Anne Zheng who is a software engineer at Google and my project was "Rock Paper Scissors." I chose this project because I enjoyed playing video games when I was little and I was curious what are basic concepts of creating a game. I used Javascript to help me develop a better understanding of the scope, function, variable, and conditions of this project. Though this MAGICal journey, I was able to understand the industry of technology and the jobs available within this field. I was able to discuss the positive and negative ways technology impacts society. For example, technology allows people to communicate with loved ones, yet it can also contribute to people feeling isolated. Finally, I learned how completers take user input to inform how programming works.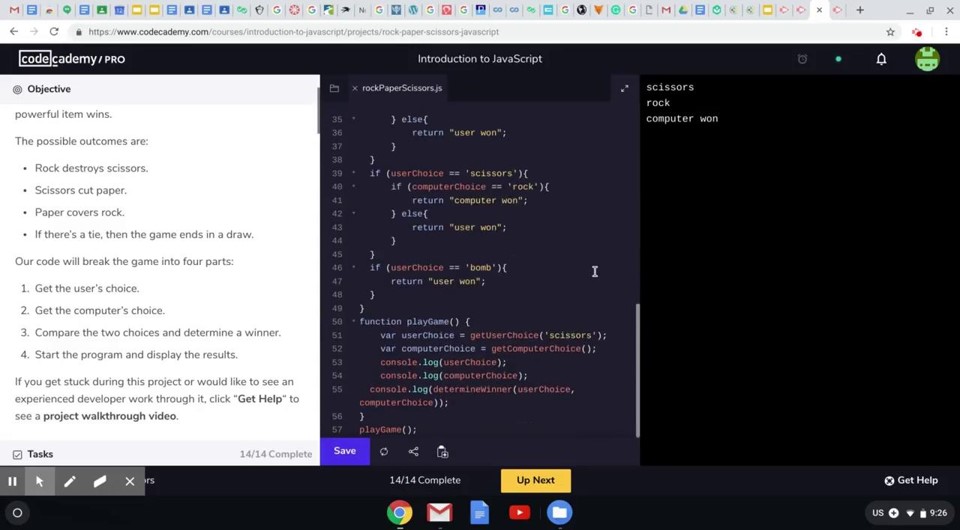 Kassandra Saucedo Listens To The Beat Of Your Heart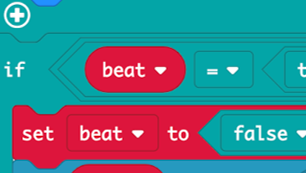 My mentor was Jessica Weinberg who is a software engineer at Google and my project was "Happy Heart." This is a device that can read one's emotions based on heart beats and galvanic skin response. I selected this project because I was interested in addressing the emotional and mental health of people. We used a micro bit, pulse sensor, and LED light to create this unit. In addition, Scratch programing language to program the device. My MAGICal journey allowed me to learn how to measure the beats per minutes (bpm) of the heart. In addition, I learned how to connect different devices together, energy consumption, and to persevere through tough moments.
I learned to persevere through tough moments.

Kimberly Barillas Has Riddles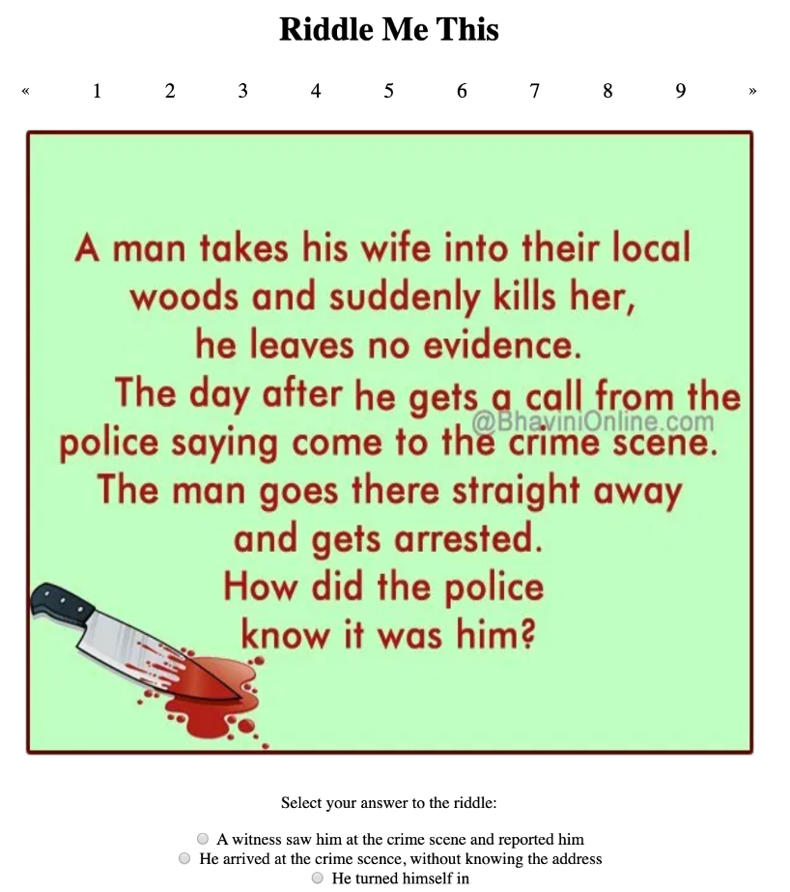 My mentor was Ira Pramanick who is a software engineer at Google and my project was "Riddle Me This." I explored what Chemistry and Criminology have in common and used riddles to showcase the connection. The website I developed included information about chemistry and criminology and included murder mysteries in the form of riddle pages. I chose this project because I wanted to expand my knowledge of criminology & chemistry while being able to learn how to code. As a result, I learned the basics of JavaScript, HTML, CSS and GitHub. In addition, I improved my time management and communication skills. I now understand that creativity, attention to detail, and patience are essential qualities that a software engineer must possess.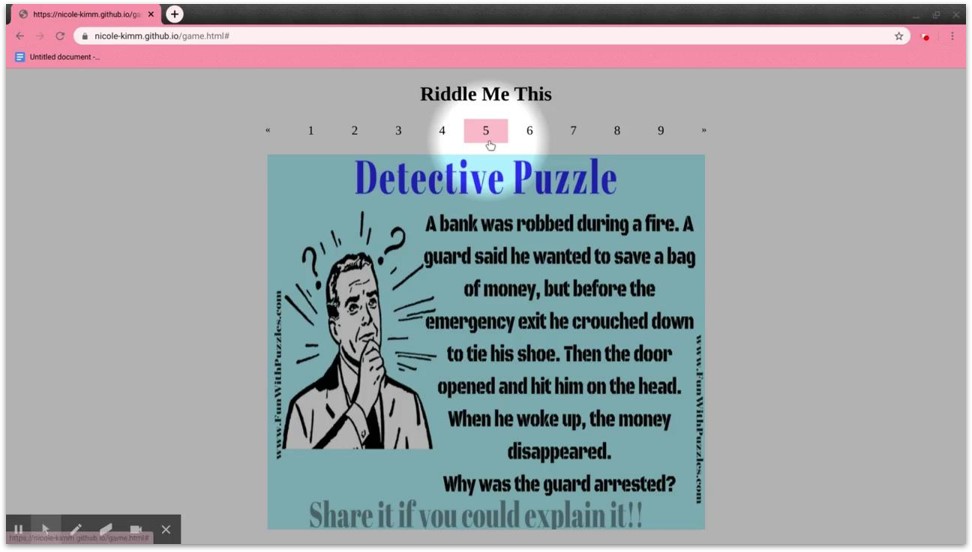 Lupita Plancarte Animates The Process Of Gene Editing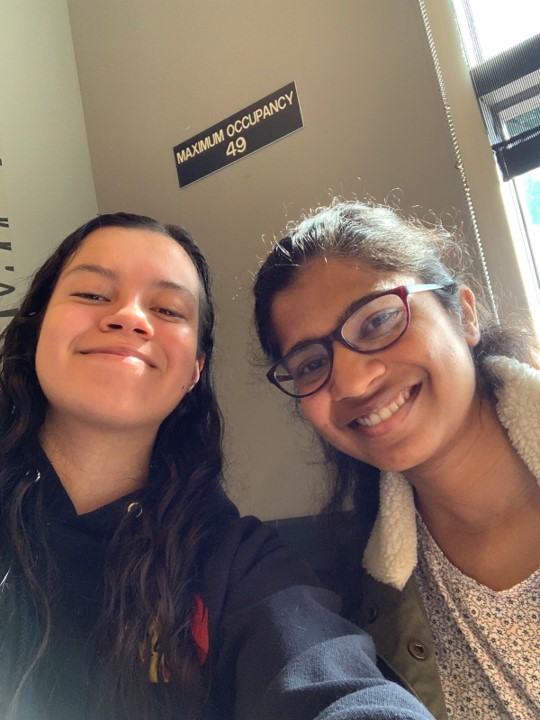 My mentor was Naina who is a computational biologists at DNAnexus and my project was "Gene Editing Animation." We were able to animate a gene editing method called "CRISPR-Cas9," which edits a genome to get rid of mutations in a DNA sequence. The animation application used for this project was Flipaclip. The major milestone accomplished in this project was developing an animation that included 2207 frames. During this effort we were able to overcome challenges animating the Cas9 protein punching a viral DNA and exporting the animation to an imovie.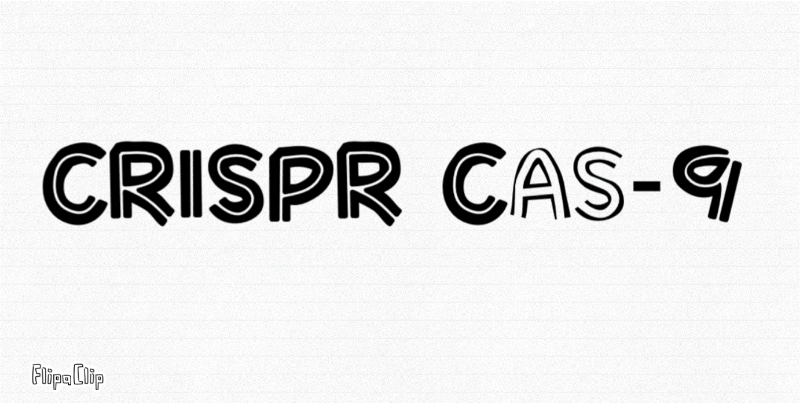 Sophia Santiago-Diaz Explores CPR In Schools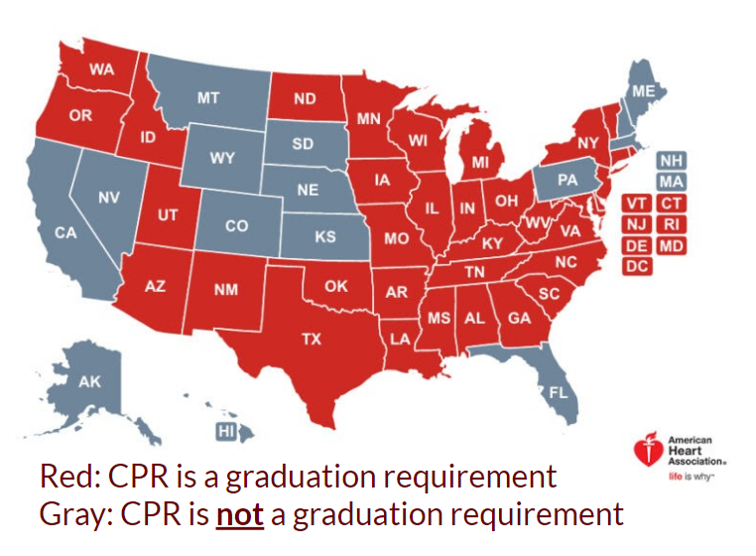 My mentor was Dr. Bishakha Mona who is a neuroscience fellow at The Science Philanthropy Alliance and my project was "Implementing CPR in Schools." This project included conducting a survey for CPR awareness and initiating a training program for students at Oxford Day Academy. This project connected to my interest in pediatric medicine. I created this survey to learn about the ODA students' general knowledge about CPR and to see if they would be interested in having a CPR/first-aid training program at school. SurveyMonkey and Google Sheets were used to collect and analyze the data. As a result of completing this project, I learned the importance of: (1) maintaining accurate demographics when surveying people, (2) understanding marketing strategies needed to implement a survey, and (3)  keeping participants engaged. Ultimately, I have developed greater comfort in taking initiative, holding myself accountable, and calculating the weighted mean.
I have developed greater comfort in taking initiative and holding myself accountable.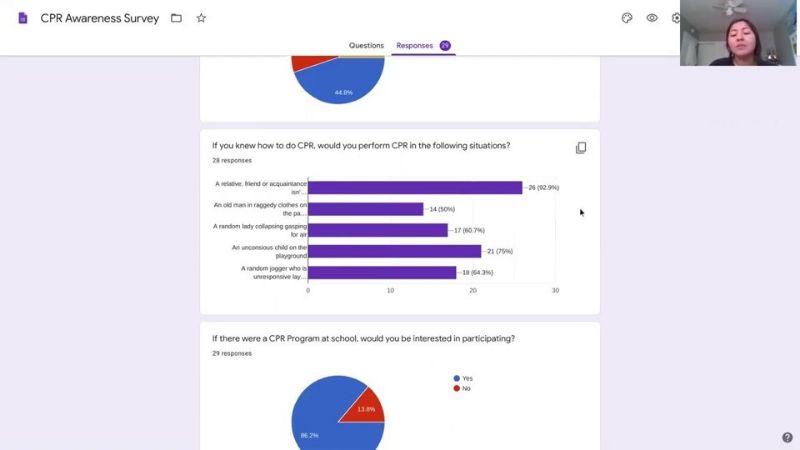 ---
Social Justice Is Our Jam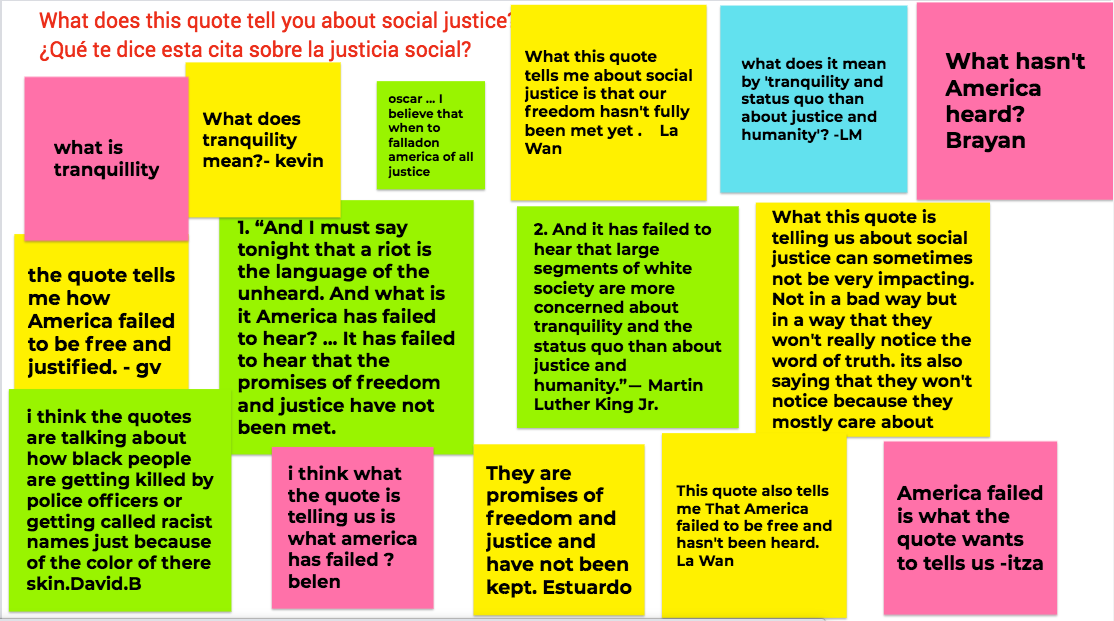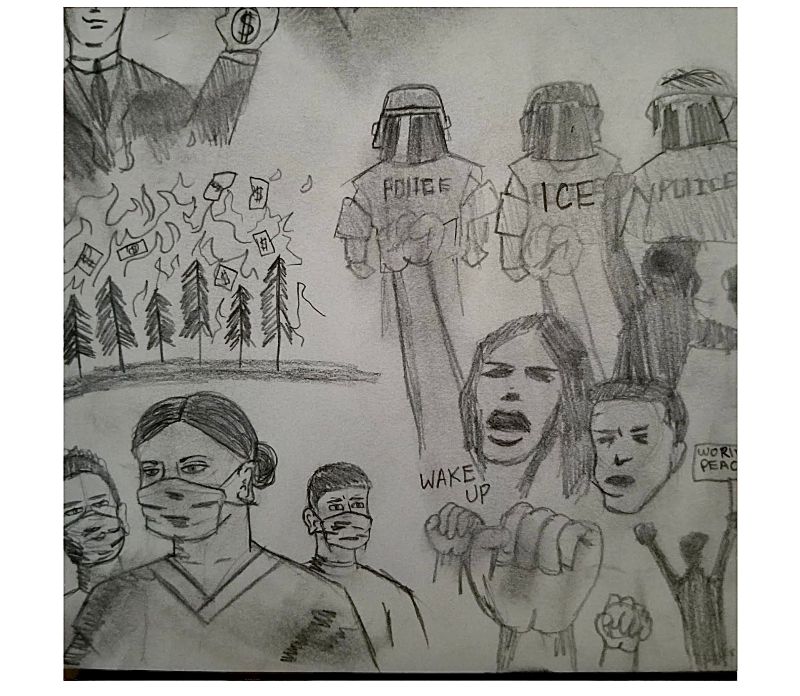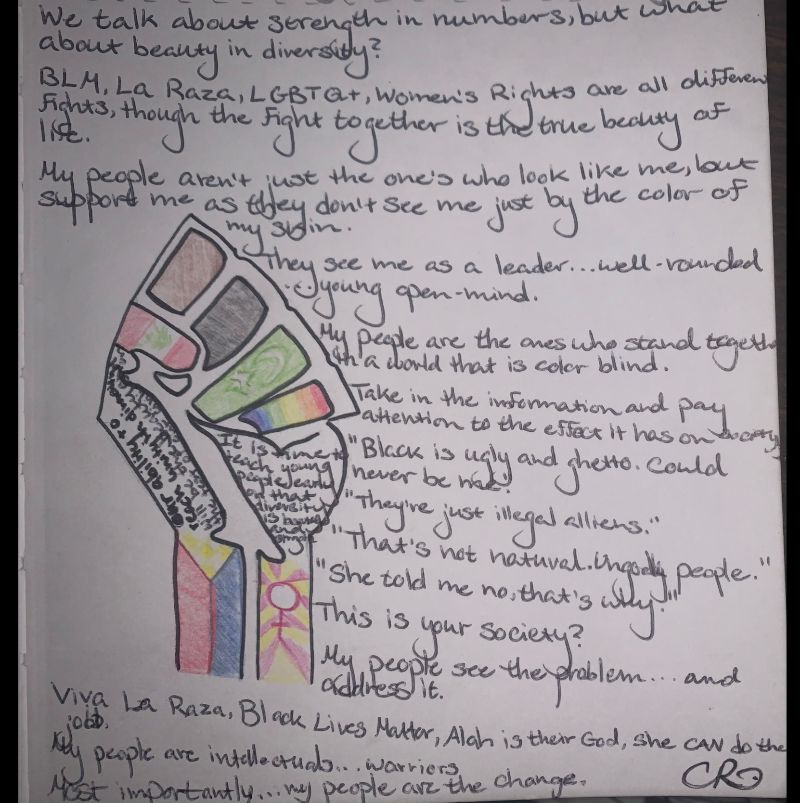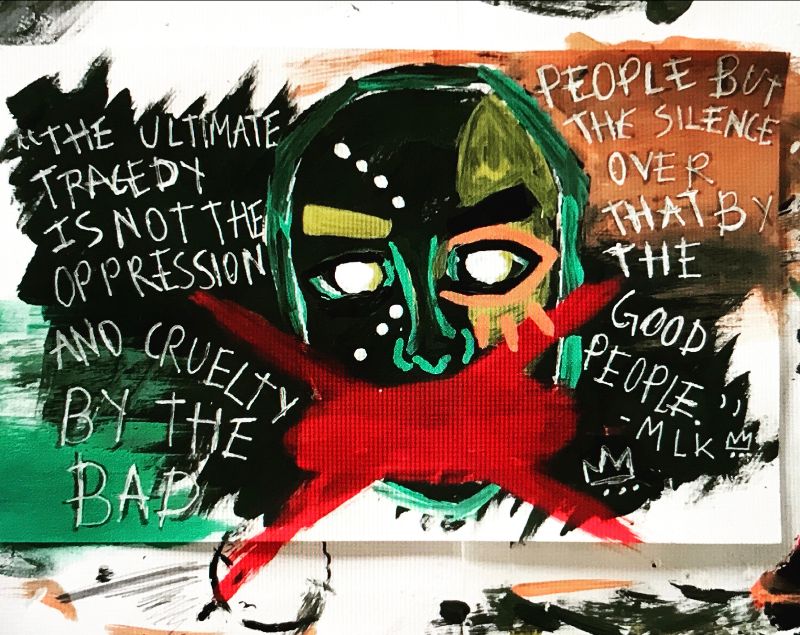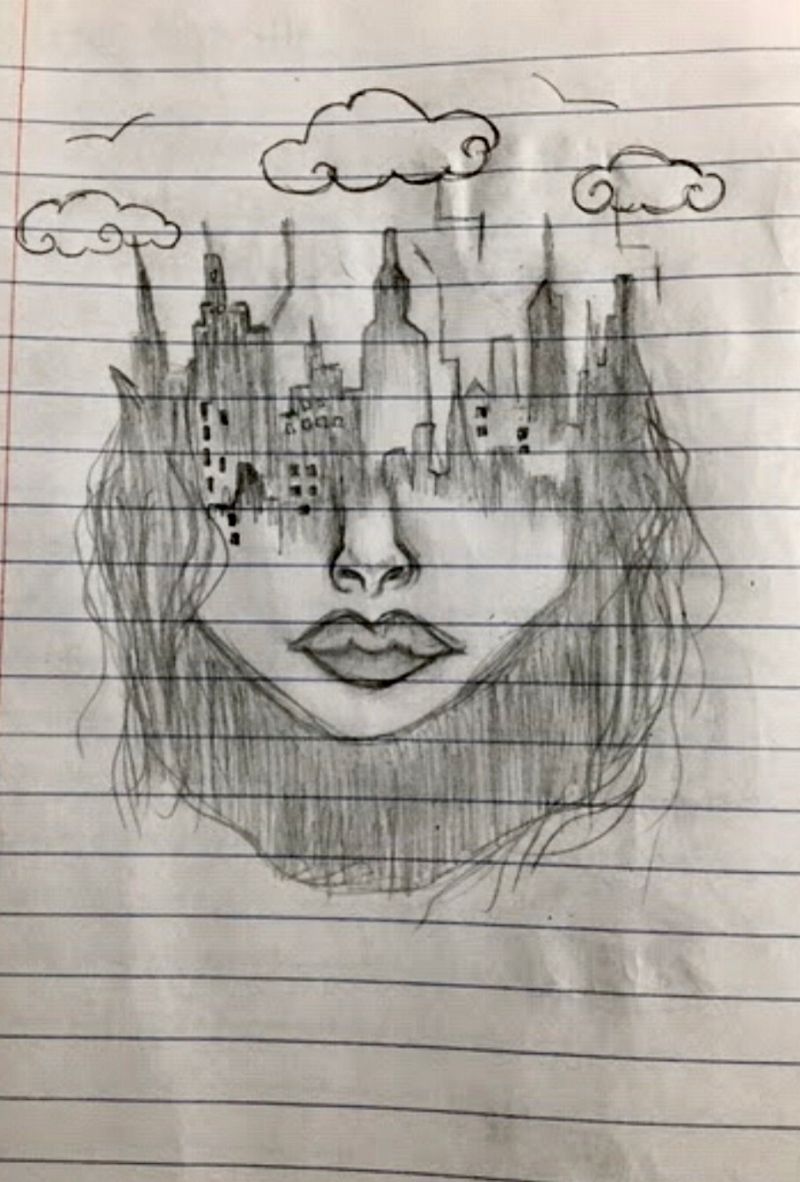 Reflective Letters To Encourage and Inspire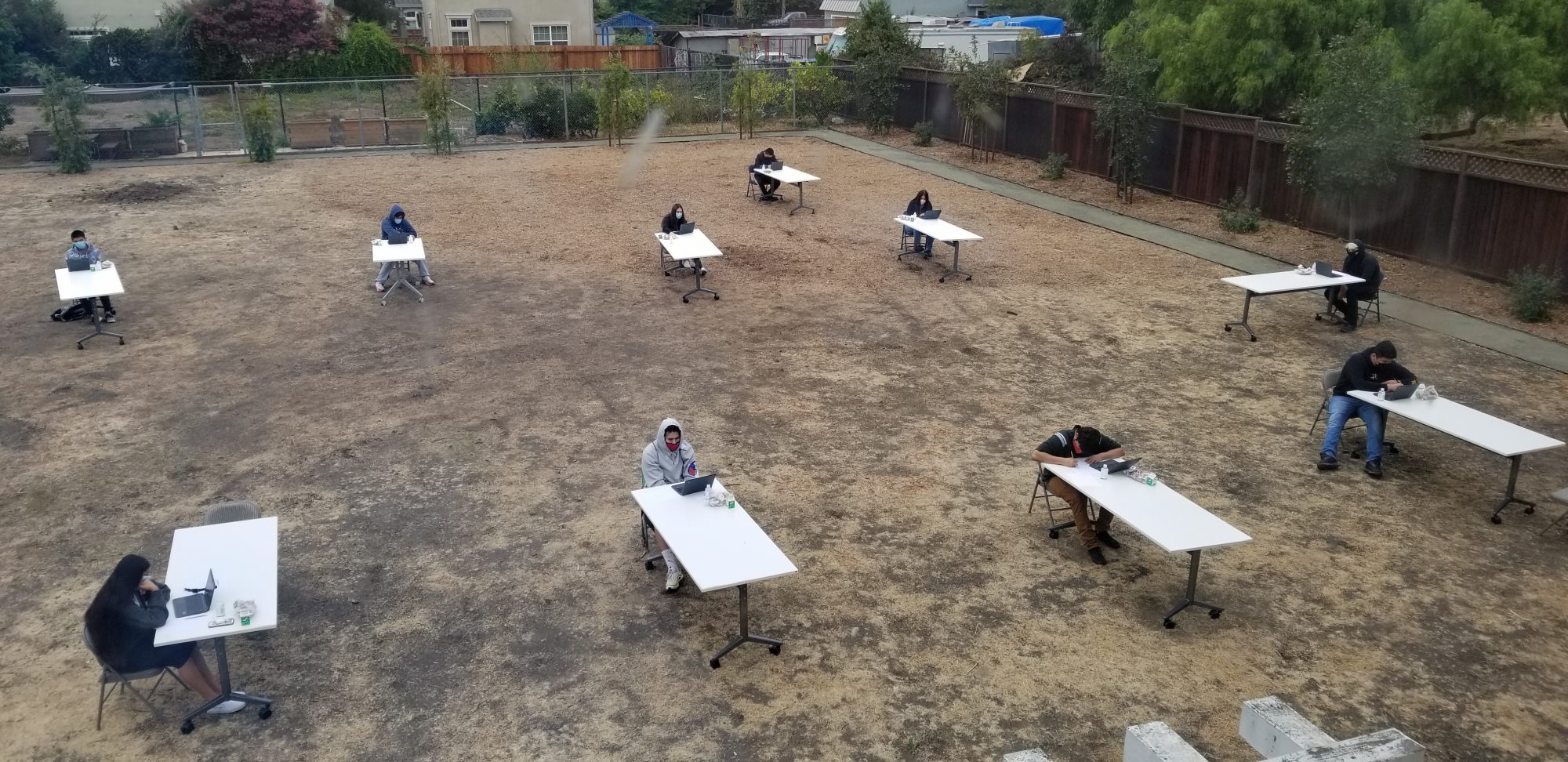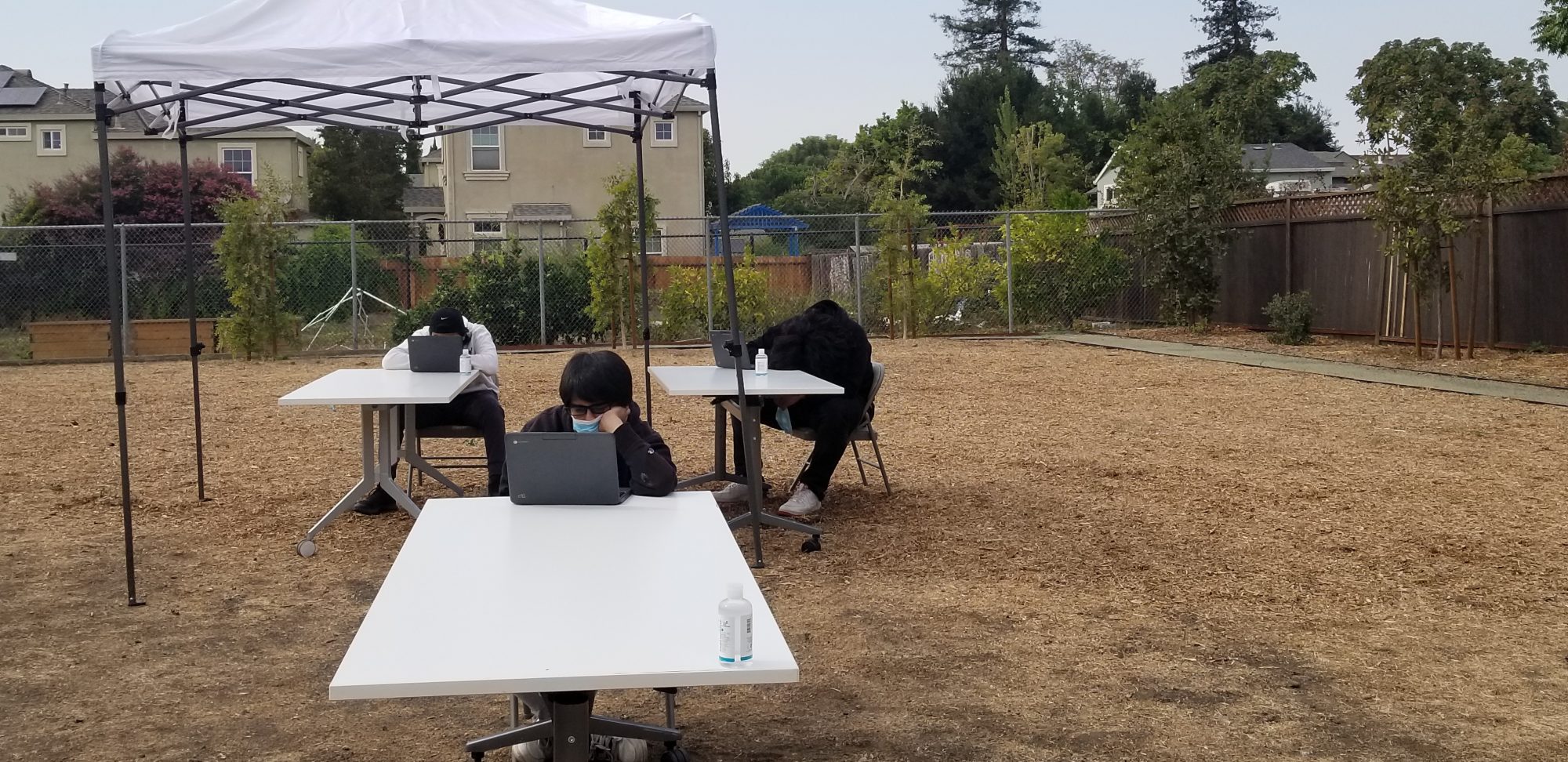 MAP Testing Fall 2020
Chyanne Robinson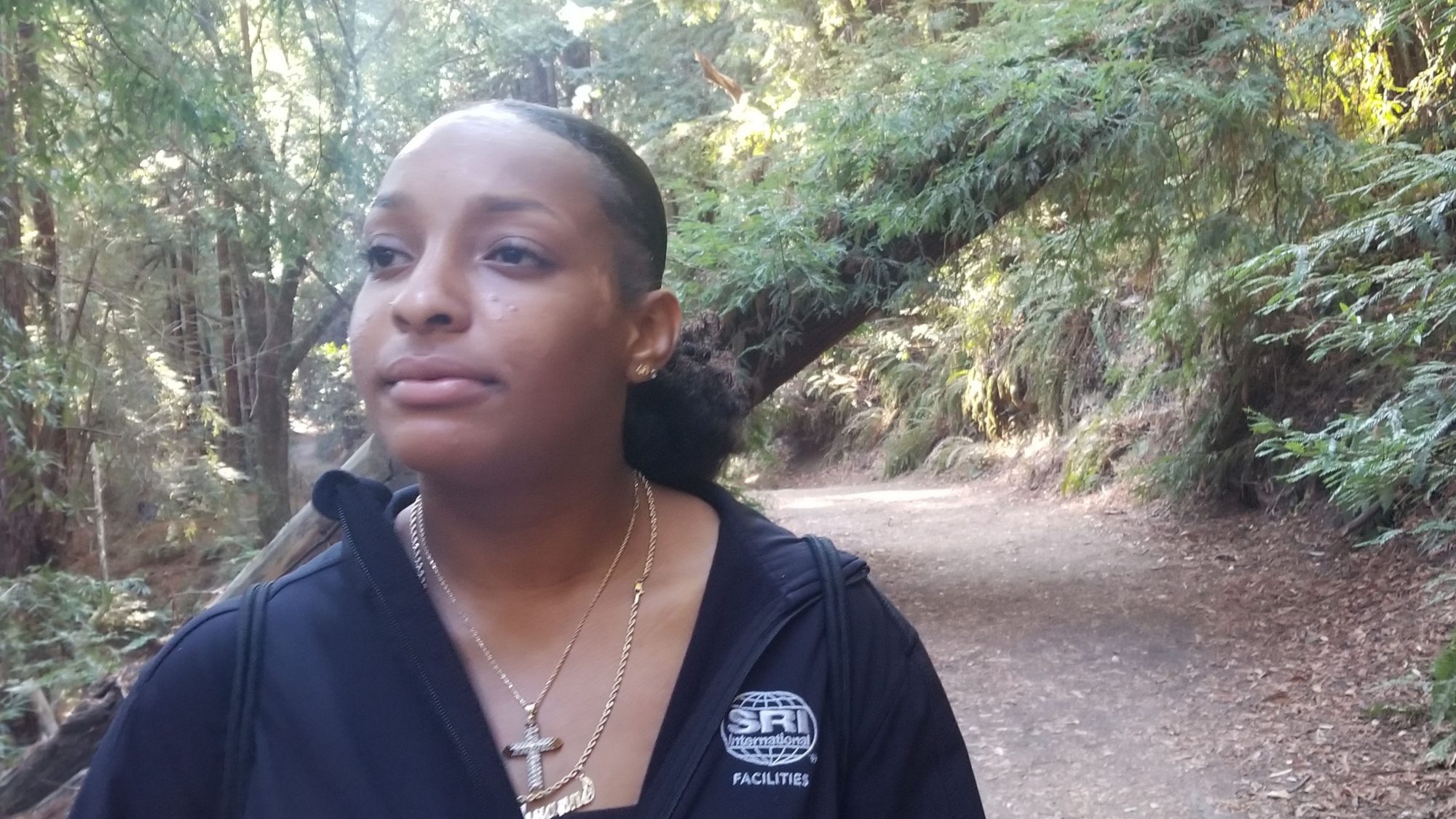 June 2020
Dear Me,
We could have done so much better than what happened this year. Things may have not been the easiest, but at least you didn't give up even though it trailed in the back of your mind to do so. This was a time to shine, yet the light went dim. The upside was that you pushed through your biggest obstacle this year and took advantage of your resources and made the most of it. Have you checked your symptoms? Are you feeling overwhelmed and allowed the stress to get to you to the point where you may be coming down with something? Covid-19? No, that's not what it was; you caught the case of the overwhelmed blues. You let the thoughts of failure push you down rather than build you up, as the smart student that I know you are. Ready to push all homework aside? Did you even try to find the probability of what the stakes are if you put forth 75% more effort into your assignments rather than leaving that 25% of the curve to the curb? You may have masked those smarts, but don't be like Forbes with false accusations based on one's opinion rather than going by the numbers and evidence.
I wanted you to understand how statistics was going to help us pursue our goal in the fields of psychiatry and literature. Knowing the logistics, what percentile would the sales of our future book fall into if the sales went down along with the rates knowing that we have looked over the Z table to ensure the probability of our customers satisfactory levels for a busy schedule. I know it may seem hard right now, but if you put the same positive energy into your work, you will get a positive outcome. You'll remember these times as I'm writing to my past self; is the qualitative data I've needed all along.
As you go more in depth with this course, remember that not all resources are statistically correct. Reading the article, The importance of Statistics, by Jim Frost, he states "Statistics are not just numbers and facts…Statistics allow you to evaluate claims based on quantitative evidence and help you differentiate between reasonable and dubious conclusions." That aspect is particularly vital these days because data is so plentiful along with interpretations presented by people with unknown motivations. This lets us know that statistics exists to give you a sense of what the outcome of a circumstance could be. This class not only will show you that you need to listen and take control of your own learning, but to keep fighting and asking questions to get to your goal. If I could do this year over, I would have spent every day after school productively doing homework and not worrying about relationships with other people. If I were to hit that STATS button on my TI-84 plus and enter the numerous times I did not take school seriously into L1, the mean would be at an all-time low.
All I can tell you is that you have the capability to be wise and beat to your own drum. I really could've made it, but got caught up in what data pine calls the "misuse of statistics… It is often assumed that the misuse of statistics is limited to those individuals or companies seeking to gain profit from distorting the truth, be it economics, education or mass media." The misleading information is what keeps you off track, but the perseverance we intake can change the margin of errors that have come upon our path. Using the right statistical procedures can have some rather accurate results if you put your mind to it. We'll do better next year, and word to Ms.Louie, "You're ok…You're fine."
P.S. Use the gah dang tech corner. It's useful my goodness!
Love,
Chyanne Robinson
Kory Verduzco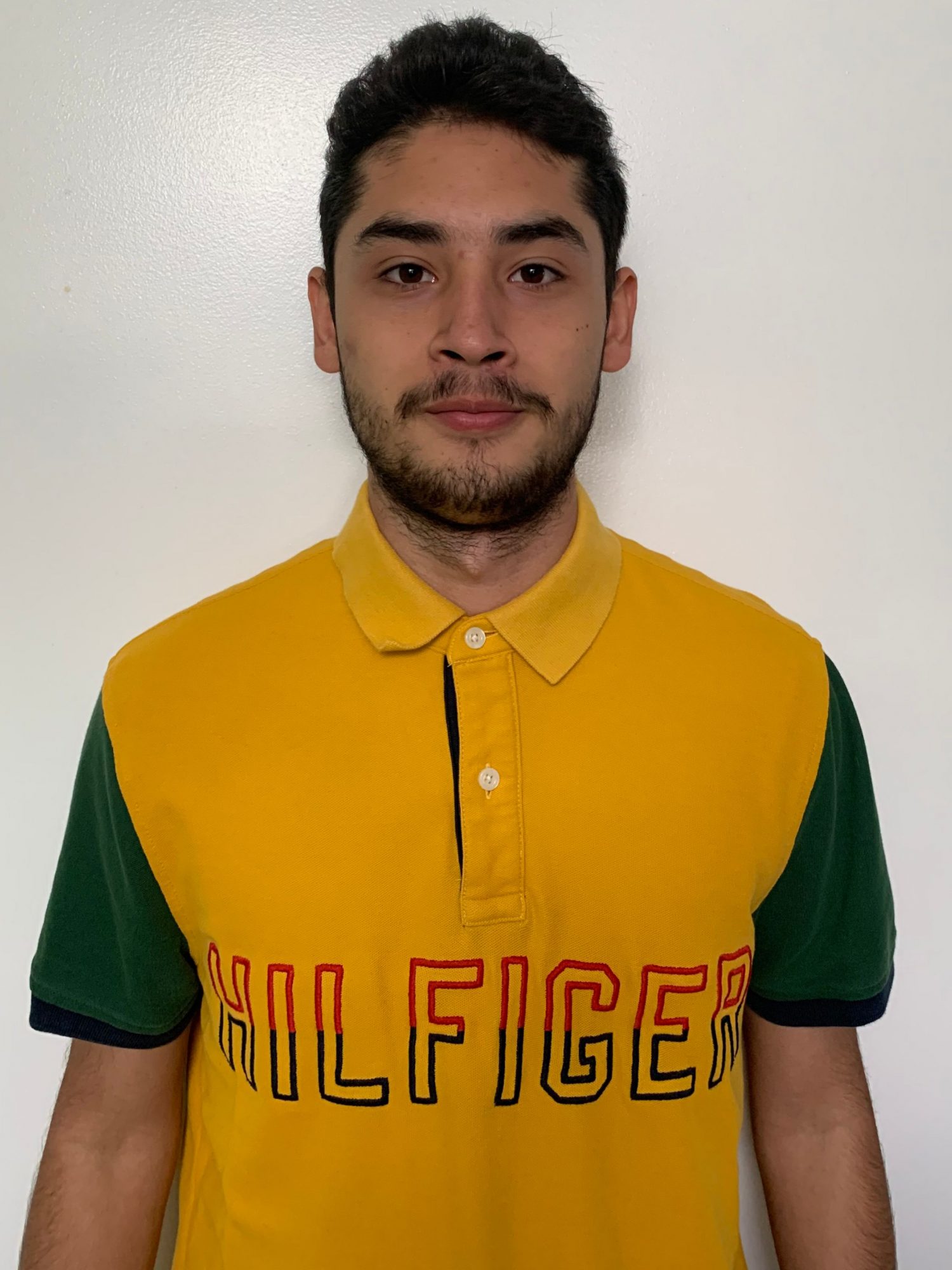 June 1, 2020
Dear Future Self,
Over this amazing, interesting, and surprising year, I have learned many things about myself as a scholar. I will start off by saying this: I honestly believe that in order for someone to be considered a scholar that person has to show passion and love towards education. I do believe that over this past year I have struggled enormously to stay as a scholar. AP Statistics was not an easy course for me especially as a rising sophomore. Throughout the year I was not only able to see myself as a scholar but started to think of myself as not being a scholar. I learned that I am pretty weak when it comes to figuring out an answer to a hard problem when I am by myself. I have given up many times just because the problem was too hard even though I knew I could have done it myself. For example, in the very beginning of the year, I barely turned in any of my homework that needed to be done over the summer. Luckily, I was able to start to work in groups with my peers to help me. I believe without my peers I would not have been able to pass the class. In other words, my normal distribution would have been heavily skewed. When it comes to strengths, personally I don't have any yet, but I am working on them as we speak.
In terms of being prepared for a class like AP Statistics, I think the only way to be prepared is to work ahead. This means getting a head start over the summer if you know what your classes look like next year. If you feel confident that you already understand the lesson that is being taught, then move on to the next one. Also, during the week go over the lesson every day for at least ten to twenty minutes so you can get a better understanding of key definitions and concepts in that lesson. I think you should work on word problems and explanation. These two skills will help you the most in terms of the standards that an AP Stats student should be able to do. There is a huge writing component when it comes to AP Statistics, especially for me. I think if you work a lot on improving how well you can write evidence-based claims, then AP Stats shouldn't be as difficult as it seems to most people. I promise you these two skills will guide you critically as you go through the book. My skill to understand how to understand equations helped me get through the class. My evidence-based claims weren't that well written when I started the class, but again being able to understand the equations shown helped me with that skill. There are many complex equations in AP Stats so getting more practice on difficult equations helped me a lot. I think the pace of the class helped me a lot because it wasn't as fast as a college class, which I do have experience in. I believe that I was able to understand a little more than I would have with an actual college class. I think the pace that my class went with was faster than a normal high school math class. Although it was fast, we did have some extensions, but do not plan on having extensions normally. If I learned something from AP Stats is that there is no time for breaks because there is always something that comes right after the other.
I think failure plays a huge role in success especially when it comes to motivation and self-preservation. I believe that even if you keep failing all the time, you must still keep on striving forward as much as you can. There will always be an outcome such as, a light at the end of a tunnel, that will show success and will satisfy your hard work. To be honest I have failed through the entire class, but failure has shaped me differently through the duration of the class. In the beginning I did feel a lack of motivation as I kept on failing. I felt like I wasn't cut out for an AP class like the rest of my peers. Definitely failure hit me pretty dang hard in the beginning of the year, but as I moved on I started to embrace my failure and turn it into energy to enlighten my mood to keep on trying whether I did or didn't fail. More towards the end of the class I became stronger when dealing with failure. I didn't really care whether I failed all my tests or not. I knew that I was capable of working hard for something I wanted to have success in. Now that I have overcome my fear of failure, I feel I am capable at succeeding with personal goals that I have yet to accomplish. I believe in myself more than I would have before taking on AP Statistics. I think that all majors are finding it pertinent for academics to understand statistics because of its world wide logistical concepts within each individual in the entire world.
When it comes to dealing with statistics you have to account for the most specific things which is why I think statistics is also a study of accuracy. If someone has studied statistics and have gotten a major, that person can accurately gather data from a population or sample and gather evidence to propose a conclusion about that specific set of data. This is why it is critical to study statistics when getting a major. A big takeaway for me is that you should always think twice or go more in depth when it comes to statistics in anything.
I would tell myself to do the summer homework that you should have done over the summer and review each lesson through the week. I would also tell myself that you should never let failure break you down. Instead of letting failure break you down, embrace that feeling to boost up your work levels and keep on striving for more. Just like Scarface once demonstrated, 'you gotta push it to the limit," you got this! You are capable of achieving more goals than you ever dreamed of accomplishing.
Respectfully,
Kory Verduzco
Damian Montesinos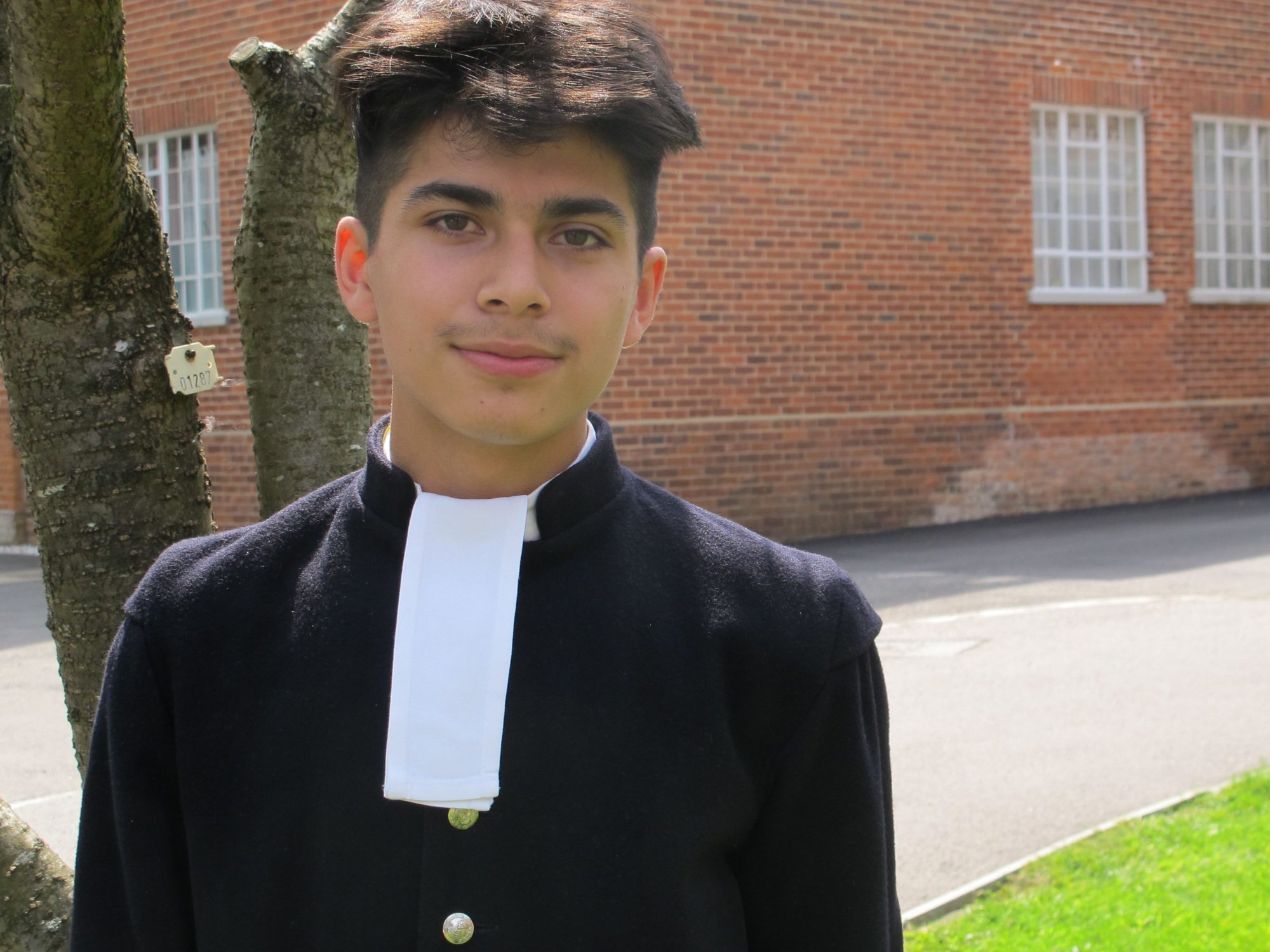 June 1, 2020
Dear Damian,
Although you struggled to focus on your schoolwork this year, it will be a pivotal point in your school career. You always waited till the last minute to send that email, complete your assignment, or to go to class, but you have to learn that the only way people will see your intelligence is if you show them that you can do the work instead of just barely passing a class that's easy for you. In order for people to change their perspective, you must prove to yourself that you are capable of greatness, only then will others understand your perspective. This past year when you were in Physics, it was an easy class that you knew you could ace easily. Helping others when they struggled in class and explaining how Physics worked in simpler terms for others who do not understand, is what you do best.
Your greatest strength is the ability to understand things at a faster rate than others, but your strength also plays a part in your weakness because you rely on your intellect too often to complete a task, so it makes you study less and your grades are affected as a result. You could see this clearly in Physics because instead of you passing this easy class, you kept ignoring due dates and upcoming homework assignment and as a result, it became a harder class than it should have been. I think the experience of statistics will help shape how you approach higher level classes (college level) by making you recognize that not everything will come easy to you and intelligence is only half of the equation and you have to work harder in order for you to get into your college of choice. This past year you will pick up some skills that will be important in tackling college courses such as being prepared for the more rigorous college classes. One of the biggest skills that you learned during this year is how to think critically and improve your problem-solving ability. You will also learn how to manage your time properly in order for you to complete your work in all your classes on time and correctly. This year failure will be one of your biggest assets.
Your ability to recognize and evaluate your situation will help you better understand your weaknesses and strengths. What is important is how you feel, not so much the failure itself. Being unable to recognize what you need to improve, will cause more failure in the future. Failure will be very important to you because without it, it will be difficult for you to understand what needs to be improved and what you need to know. So, when failure comes, be ready to analyze your situation and adapt to your surroundings so that you'll be able to overcome any adversity that you face in the future. This adversity can range from you failing an exam or getting rejected by a girl, whatever it is always strive to better yourself and others around you.
If I can do it over again, I probably wouldn't change a thing because I learned so much more about myself than I would have if I hadn't faced adversity. Anyway, it isn't very fun always passing so you have to have a change at some point. Jokes aside, it's hard for me to have a clear answer because in hindsight it would have been great to have all this knowledge in order for me to get through the school with flying colors. I think it's better if we learn from our mistake ourselves rather than someone giving the answers to a test; because even with the answers, what did you learn? It will only create a bad habit of expecting someone to complete the tasks for you, no experience is gained, no life lesson is taught, no character is built, and most importantly there's no satisfaction of achievement. It defeats the purpose of actually learning for yourself because they won't learn to learn for themselves and if that's the case, then what is the point of going to school and taking a test if you didn't learn anything. I think the most important thing I realized is that I don't have to do everything alone and that it's okay to ask for help and it's okay to not know the answer because there's a high chance that someone has the same question as you. Don't be afraid to have fun and hang out with friends, just remember that those same friends are your allies, and they will always be there for you.
Damian Montesinos
Alexis Delgado

June 2020
Dear Alexis,
I understand that you're going through something difficult and you feel useless this whole time, not knowing if you should keep doing school or helping dad with work, but trust me sticking to school and your work is the best thing you can do to help mom. This class is going to be more difficult than you think, trust me as I am writing to you from the end of your Junior year. You haven't changed much as you still won't ask for help from others, thinking you'll just make it more work for others to help you, and when you did ask for help it was only once, it's a start but a slow one at most. Asking for help is the one thing that you must change if you want to succeed in your goal, trust me that is all you will hear when you're struggling. This AP Statistics class that you're going to take has shown me one thing and that is what dad said way back in the fourth grade, "If you have the book in your hands go ahead of your class and try to learn the lessons in advanced so when that lesson comes up you have some kind of understanding." And honestly, this is true as I believe you will do better if you spend your breaks (Thanksgiving, Winter, Spring) reading ahead of where you are with the class and try to understand as much as possible, as this is a college level class. You should also use Khan Academy as this resource makes it a bit more simple for you to understand. I know you get frustrated when you don't understand something and you'll eventually get a grade that you're not proud of, but see what you did wrong as you will grow from your mistakes.
While reading a blog, Misleading Statistics Examples – Discover The Potential For Misuse of Statistics & Data In The Digital Age, I now see the importance of statistics and how certain people misuse statistics to portray the wrong message known as "Misuse of statistics." The methods that are used to mislead in statistics are faulty polling, flawed correlations, data fishing, misleading data visualization, purposeful and selective bias, and using percentage change in combination with a sample size. These are things you should look out for when you read things online or see on tv, as the people only want you to see the numbers they want you to see without any other information. They will try to feed you false statistics, but by the end of the year you should know enough to see these false claims. Hopefully, this information helps as it would have helped me knowing this information before jumping into the class. You'll find that you already know some things and find a few things easy, but the equations and vocabulary are completely different than what you know. You have grown and learned a few things, but this AP Statistics class is your biggest huddle, and you must give it your all. This class is normally done in a single semester, but you are doing it in a whole year, make it count.
From the learning future,
Alexis
---
Don't Forget Your Mask!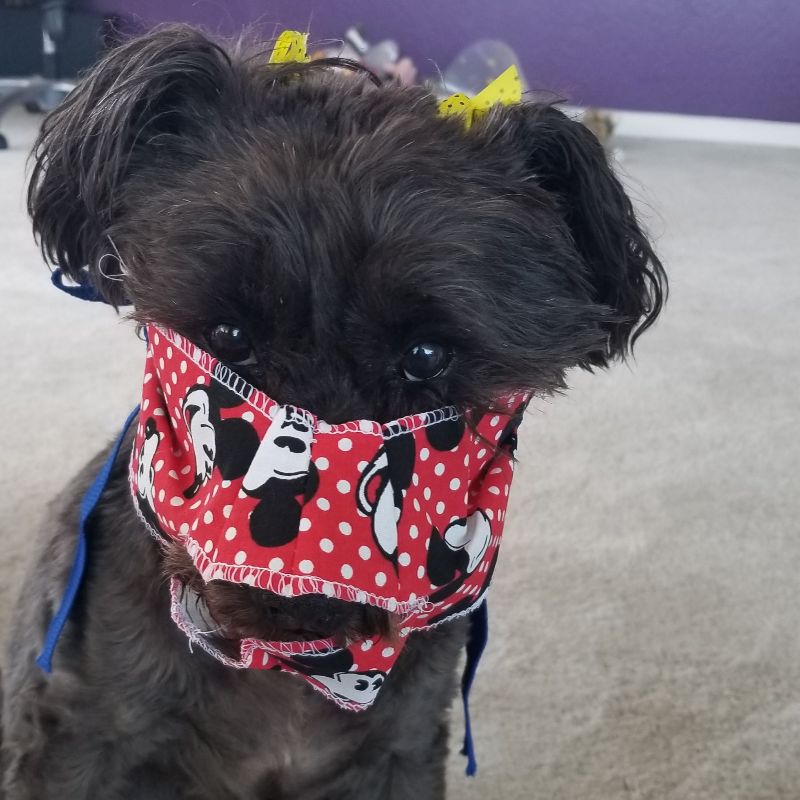 Gingie St. Roseman leads by example. Wear a Mask! It protects you and the community.